Our school mission of
"Praising God in every way;
in all we think, do and say"
helps us all try to give our very best each day.
 We pray everyday, sharing Collective Worship
and learning the prayers of the Catholic Church.
Collective Worship Assembly on Local Church February 1st Y2
Collective Worship Assembly on Democracy January 18th Y3
Collective Worship Assembly – Judaism
Assembly Y6 28th September
Thank you @y2StFinbars to sharing your favourite scripture reading with us Matthew 3 13:17
#collectiveworship #KnowledgeIsPower you have certainly learnt lots during this topic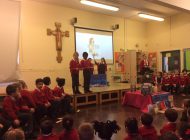 Year 5 Tolerance
Year 3 Democracy
RE Topic Ourselves
    

                                 Harvest Assembly
    

Latest News
OUTSTANDING!!!!!!!!
I am very proud and happy to announce that in our RE Inspection last week, we were awarded
Attendance Treats
Treats for 97% to 100% Attendance Attendance Rewards – Termly Be in line for 5 to 9
Swap Box
Children may bring in their own books to read on the yard at lunchtimes. We also have swap