The Premier League Trophy came to St Finbar's on 13th March as part of the prize for
winning a National Poetry competition.
Hurray for St Finbar's!
We hope you managed to watch the BBC NW coverage – the children
were fabulous!
Lots of photographs of our winning children and the celebration
assembly can be viewed using the following link and password.
https://greigphoto.com/plwspoetwinners13mar19
PASSWORD – plwsstfin233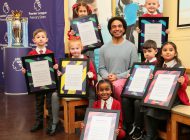 Read the winning poem by Year 1 children.
Being Different
By Nabila, Lary, Jacob, Amy, Benyamin, Thomas and Khadija
I cover up my hair but you shouldn't stare at me.
I have lovely hair and I'm as proud as I can be.
I speak another language but you shouldn't laugh at me.
I can be your good friend – come and play with me!
I find walking hard but you shouldn't throw me out –
I will get stronger and then I can run about.
I find spelling tricky but you shouldn't huff and puff.
I will not give up even if it is tough.
I sometimes get worried but you shouldn't point at me.
If you help me, I'll be the best that I can be