The SENCo (Special Educational Needs Co-Ordinator) is
Mrs C Harkness
She can be contacted on 0151 727 3963
On this page you will find information relating to Special Educational Needs and Disability at our school. This information complies with our statutory responsibilities and is included in the following documents:
SEN Information Report
Local Offer
Click here to view  Our Local Offer.
Click here for  SEN Information Report 2018/19
Click here for SF-Accessibility-Plan-2016-2019
Click here for SEND policy 2018.19
Click here for Supporting pupils with a medical condition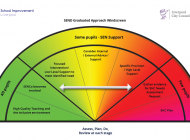 A link to the Local Offer can also be found in Liverpool's Early Help Directory
We operate a fair access protocol in line with Liverpool Local Authority procedures, please click here find out more information.
The Liverpool CAMHS offer aims to promote the mental health, emotional and wellbeing of all children, young people and their families/carers.
Useful Websites click on links
Latest News
What's On
No events coming up!